Qualtrics is a system of action that enables school leaders to address teaching and learning, school operations, and wellbeing. Make data-driven decisions to create a safer learning environment. We are here to help you continue to support your school community, the right way.
Full enterprise solution
Symptom checking and contact tracing
---
Symptom checking, via CDC-aligned self-certification, is the first step in identifying possible possible individual exposure and group hotspots.
Following up on those results is critical. Encourage and enable high-risk individuals or those who test positive to confidentially share whom they've been in contact with, and places they've been.
Build trust and take real measures to ensure student and staff safety with Qualtrics Symptom Checking and Contact Tracing, already being used in multiple states, municipalities, and education institutions.
Quickly and confidentially assess symptoms
Automatically notify those impacted with next steps
Provide daily notifications to monitor symptoms
Aggregate data and sentiment to identify trends and hotspots
Learn more
Developed with Character Lab
Student & staff well-being
---
With the stress of a global pandemic, social injustice, and social unrest, it is vital for schools and institutions to monitor well-being and to identify specific individuals who need additional support.
Quickly pulse students and staff with research-based questions developed in partnership with Character Lab
Empower staff to take action with those who need additional support
Monitor key aspects of well-being including intrapersonal well-being, the learning environment, and physical health
Learn more
Streamline your processes through automated reporting, reminders, and alerts to help your school or campus coordinate vaccination records. Qualtrics Immunization Management enables schools and institutions to track COVID-19, flu, and other vaccinations for students, faculty, teachers, and staff.
Track immunization compliance for students, teachers, and staff
Quickly adapt to CDC guidance and state requirements
Alert stakeholders to take action when vaccinations are overdue
Learn More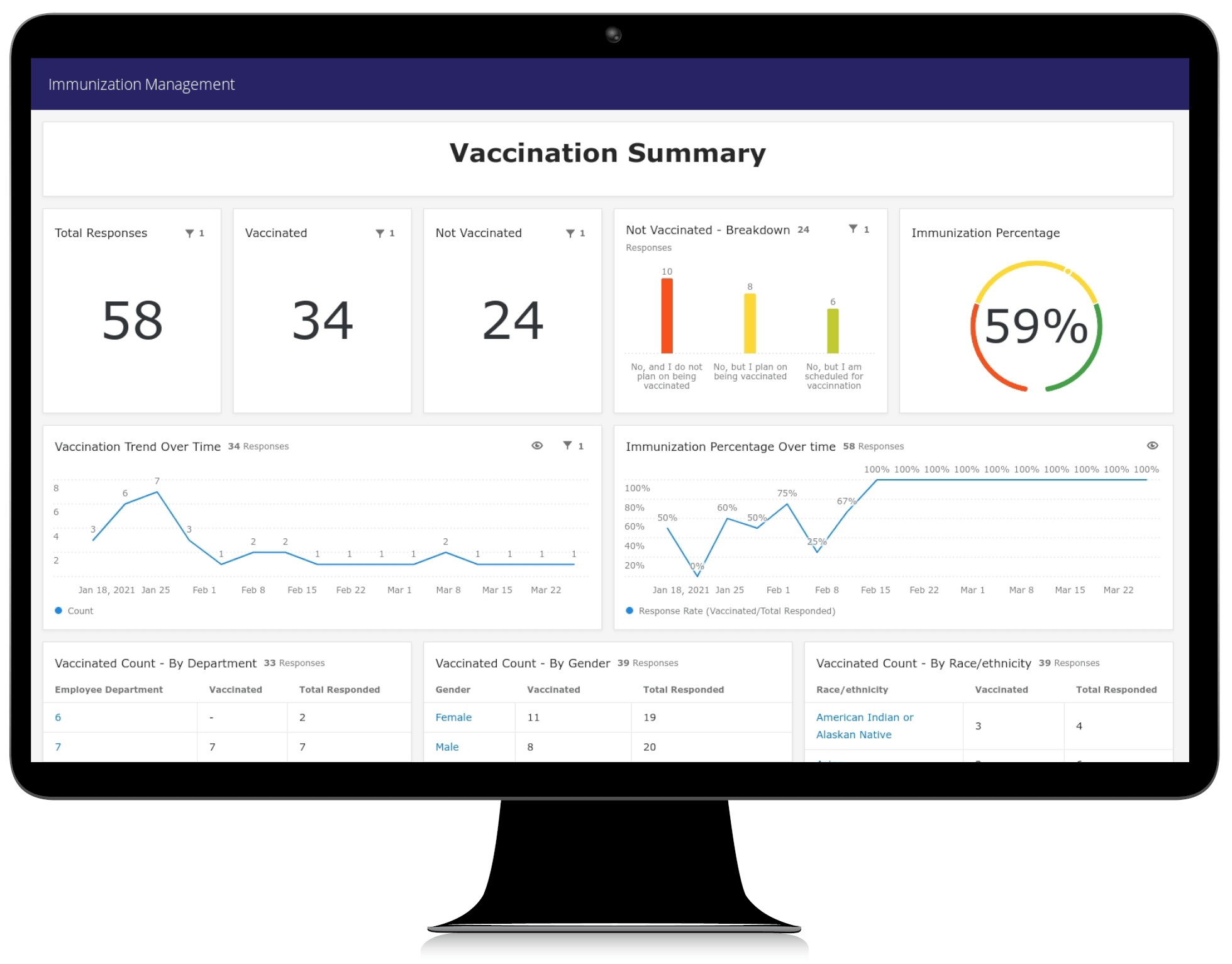 Learn more about our education solutions
At Qualtrics, we've witnessed firsthand the power of schools adapting quickly to respond to COVID-19. Since its onset, Qualtrics has been used by thousands of educational institutions around the world to help leaders understand the impact of the pandemic and take concrete actions to address issues.
Based on best practices from our work with both public and private organizations, we have created a turnkey set of solutions to help you listen to students, families, faculty, and staff, use experience data to assess risk, and take appropriate actions to deliver on your educational mission.
Learn more about how Qualtrics can help you re-open safely.
Secure, trusted platform with proven
scale for education needs
The Qualtrics XM Platform is ISO 27001 and FedRamp compliant. It is also HITRUST certified, which means its technology platform provides customers the tools they need to manage HIPAA compliance
Secure, unified data collection for aggregation and analysis by K-12 schools, Higher Education institutions, and education organizations
Trusted choice of more than 80 federal agencies and 300 state and local governments for sensitive public sector needs