Customer XM for Locations
Deliver in-person experiences with bottom-line impact
From your first location to your 101st, turn every customer interaction into an opportunity to increase revenue and loyalty with a solution for all in-location businesses including retail stores, branches, dealerships, hotels, and more.
Design experiences that drive revenue and loyalty
See how every action and improvement drives bottom-line impact so you can focus on the experiences that grow your business.
Understand how every customer interaction impacts overall customer satisfaction and frequency of return

Maximize the touchpoints in the customer journey that have the highest impact on your business,

Use real-time insights and predictive analytics to understand sentiment, emotion, and key topics, so you can improve the customer experience
Take the right actions, in the right locations, at the right time
Automated actions, alerts, and customized workflows run 24/7 to close experience gaps, even after your locations close down for the day.
Set up alerts via your Qualtrics app to flag potential problems and performance indicators in real time, so you can focus your actions

Alert frontline staff to actions they can take in the moment to improve the experience for their customers

Automatically trigger actions in the systems you're already using with integrations into point-of-sale systems, CRMs, marketing automation tools, and social media and messaging platforms
See XM Automated Actions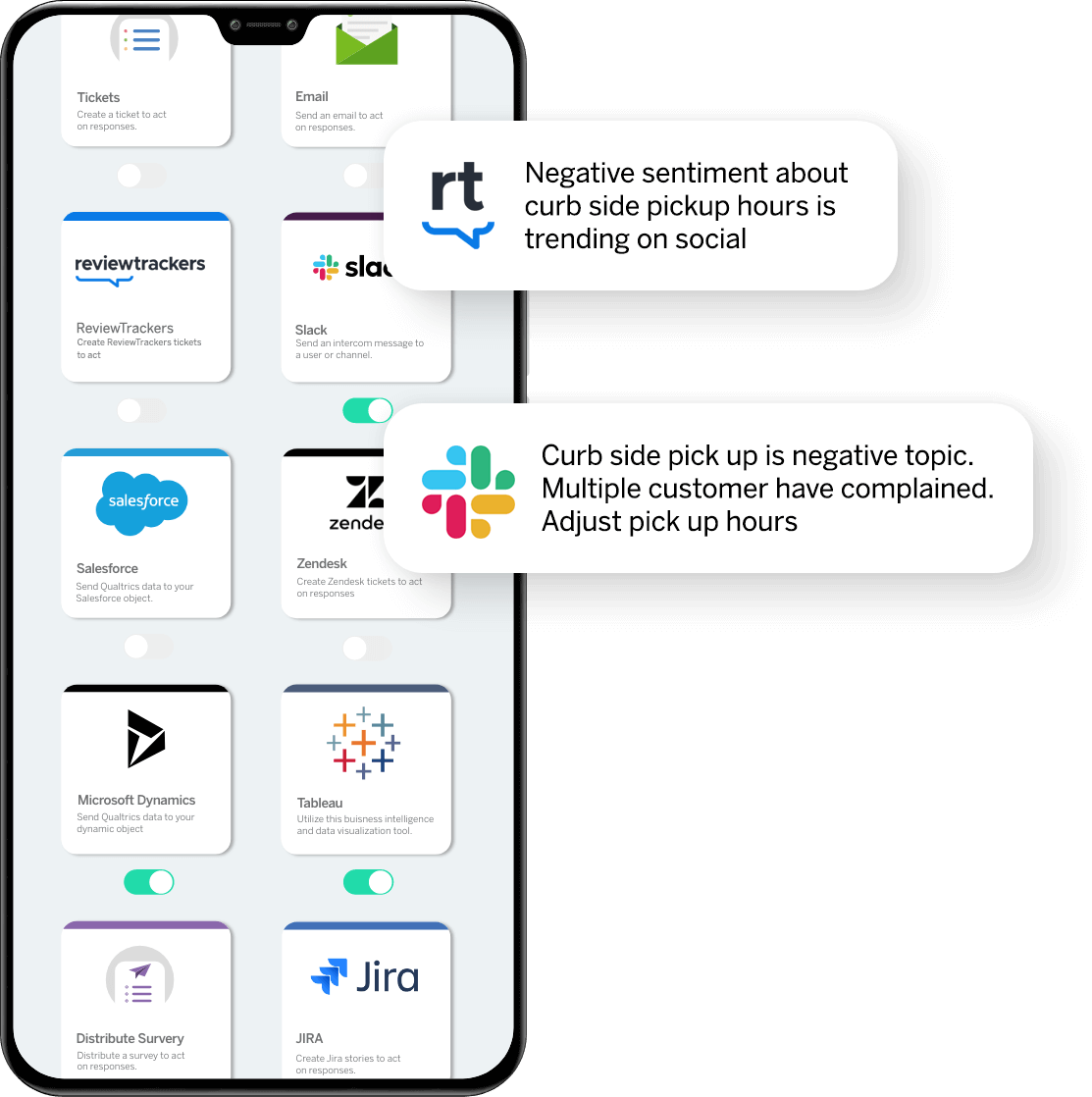 Hear from every customer and your frontline on one platform
Get the full picture with an ultimate listening system that combines customer feedback from 125+ channels with feedback from your frontline employees.
Manage your online reputation and earn more positive reviews with all your off- and online feedback in one place, including third-party review sites and social media posts

Incorporate frontline feedback from staff to uncover unmet customer needs and help your people get what they need to deliver for customers

Bring all your feedback together into a single system of record to help identify experience gaps at every location and deliver more personalized experiences
Learn more about Ultimate Listening
Personalize customer interactions at scale
Get a 360o view of the customer experience with a single system of record for every customer interaction. You'll be able to tailor the experience for customers with instant access to all their past interactions — including contact, experiential, and transactional data—so your teams can take the right actions to increase customer satisfaction and loyalty.
Identify common behaviors across customer segments or cohorts and create segments for targeted outreach

Trigger alerts with suggested actions when key metrics change for specific customer segments

Understand loyalty drivers and churn indicators across all segments
Learn More About the XM Directory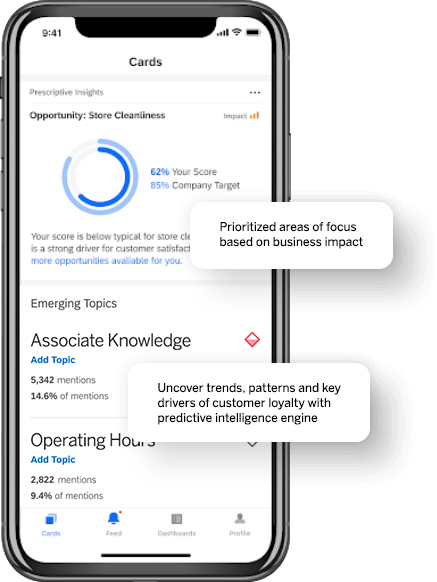 Don't just react to problems—predict them
Avoid broken customer journeys for good with a powerful, predictive analytics engine.
Identify potential problems on the horizon with powerful predictions of customer behavior that alert you when to take action

Proactively identify opportunities for coaching frontline staff to improve engagement and deliver better experience for your customers

See the key drivers of revenue, loyalty, and satisfaction and know where to prioritize for maximum impact
Learn More About Qualtrics IQ
Trusted by 11,000+ of the world's biggest brands
Billions of unforgettable customer experiences are powered and safeguarded by CustomerXM every day.
FedRAMP, HITRUST, and ISO 27001 certified +

robust governance controls, GDPR compliance, and data privacy features

Comply with GDPR and other privacy laws by easily enforcing what customer data is collected, stored, or deleted to ensure your customers' privacy is never compromised

Get all the support you need to become an experience leader with our expert team of XM scientists, implementation, engineering, and support specialists

Ensure that experience data is linked to the right individual, all the time, with Active Org