Enterprise Survey Software
Better insights drive better results for enterprises
Make it easier and faster for everyone in your organization to uncover experience insights with the world's leading enterprise survey platform. Trusted by more than 13,000 of the world's biggest brands and 85% of the Fortune 100, your entire organization can get unrivaled research power, all while complying with internal and external data collection regulations.
One platform for all your experience data
---
Made to be smart, designed to be easy. From customer insights to market segmentation to concept testing, Qualtrics Enterprise Survey
software provides a single, easy to use solution for all your experience data.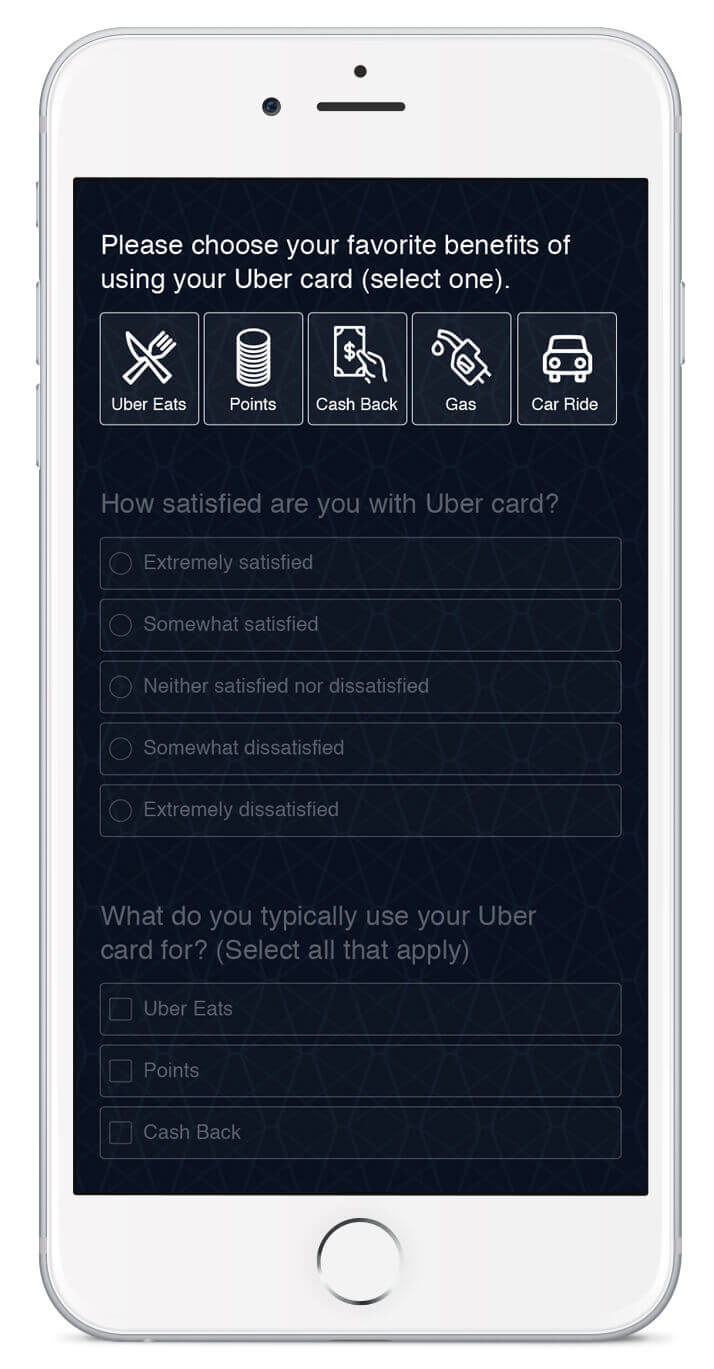 Get up and running fast
Easily collect, analyze, and act on enterprise survey data across hundreds of use cases with zero learning curve so your teams can get up and running in no time. Plus, custom login experiences help organizations create onboarding and communications experiences that meet their unique needs.
Enable professional-grade research everywhere
Provide everyone with expert validated methodology for 40+ different research projects. XM Solutions are validated, pre-built projects for customer, brand, product, and employee experience all available within the platform.
Get feedback from anywhere
Collect real-time, solicited and unsolicited customer feedback from 125+ sources, including inbound and outbound calls, IVR surveys, voice-activated devices, website FAQs, chatbots, social messengers, and more.
Centralize feedback
Multiple teams and projects? No problem. Break down data silos and bring all your feedback data onto one platform.
Improve data quality
Build a system of record for every piece of feedback from every respondent, across every channel. Know when to survey and when not to, ensure high engagement rates and improve the quality of your insights for better results.
Analyze insights with ease
Learn from every interaction with customer panels, targeted research, smart segmentation, and predictive analytics.
One system of action for your entire organization
Go from insights to action, automatically and efficiently. Take action to close experience gaps with XM Automated Actions at every level of the organization. No-code drag and drop integrations into the systems you use whether CRM, ticketing, messaging or anything else.
Workflows for any use case
Deliver automatic notifications to the right people, raise tickets automatically and close experience gaps immediately.
Always up to date
XM Automated Actions works across brand tracking and product feedback to customer and employee experience.
Drive efficiency through automation
Whether it's a ticket to your support team or recommended actions, XM Automated Actions does the hard work so your teams can focus on delivering results.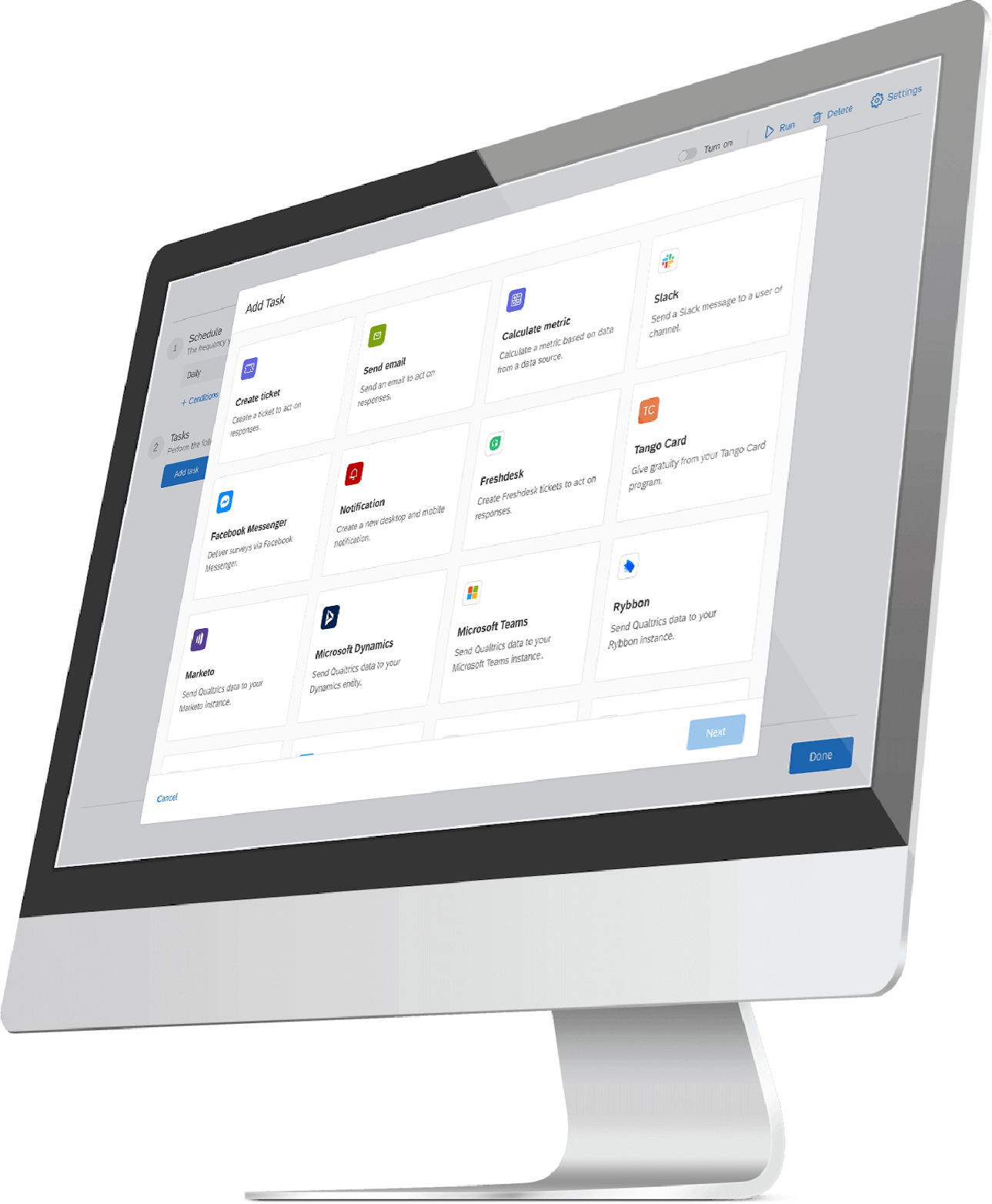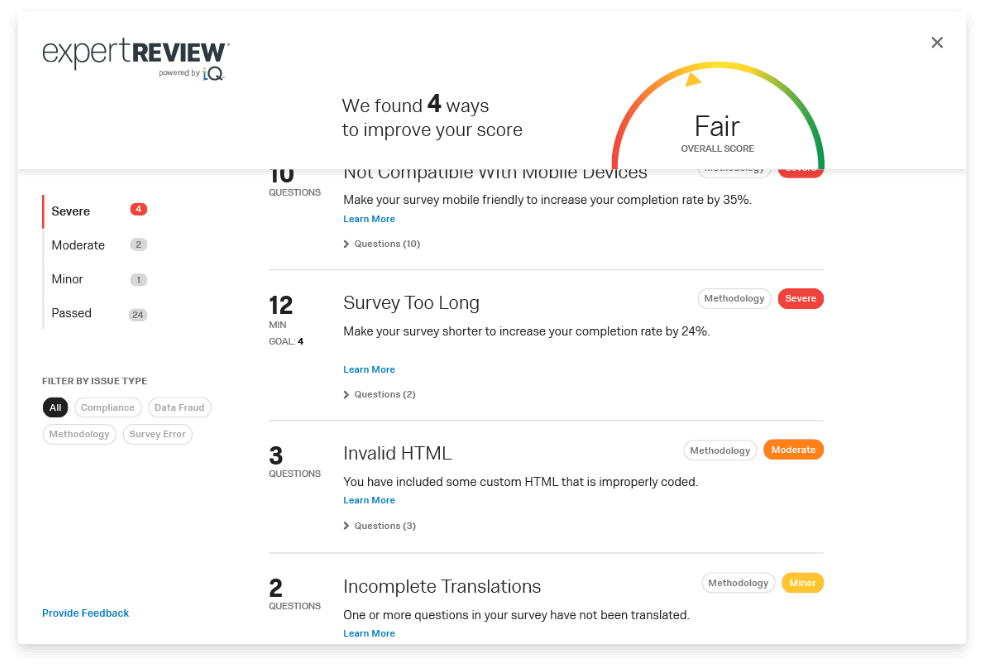 Maximize experience insights
Boost response rates
Boost response rates of your enterprise surveys and ensure every survey delivers the highest-quality data with ExpertReview, powered by advanced artificial intelligence and machine learning.
Integrate into existing systems
Reach your audience by seamlessly integrating your enterprise surveys into your existing systems like Salesforce, Marketo, Adobe and many more.
Intelligent discovery and analysis
Discover insights faster than ever through real-time analytics and intelligence features, and maximize their impact with iQ, our predictive analytics platform that sends recommended actions to the right teams for maximum impact.
Org-wide respondent management
Your command center for truly personalized experiences. Build rich, personal profiles of every stakeholder with XM Directory. It stores every piece of feedback, from every customer, prospect, and employee in a single place, so you can design and deliver personalized experiences to everyone.
Personalize the experience at scale based on segment, individual preferences, and more with the complete customer history at your fingertips
Auto-sync contacts, manage duplicates and opt-outs, and control contact frequency where needed at the click of a button, so now any user can uncover insights with confidence
Send the right research to the right audience. End the waste and frustration of unfocused sampling and recruiting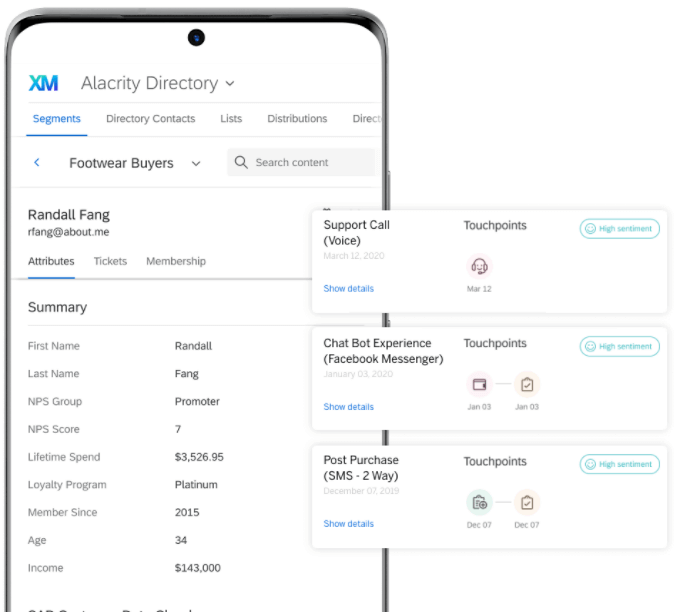 Enterprise-grade
security and governance

Trusted by the world's biggest brands, have complete confidence in your survey data with a platform that meets the most stringent compliance standards (ISO-27001, HIPAA, Fedramp, GDPR).
Ensure peace of mind with enterprise-grade security, privacy, monitoring, and data access controls that keep all information safe and secure
Easily comply with GDPR and CCPA erasure requests with simple one-touch deletion
Keep your data protected by easily enforcing sensitive data policies, and create additional layers of encryption through data isolation
Prevent unauthorized personally identifiable data (PII) data collection automatically. ExpertReview Compliance Assist alerts users when they ask sensitive survey questions, warns respondents if they are about to submit it, and redacts any PII so that no one ever sees it
Track product usage and generate reports to help with internal usage tracking, billing and cost management
Power insights across your organization