XM ADVOCATES
Be a leading figure in the story of XM
As an XM Advocate, you'll build a reputation for leadership and innovation in one of the fastest growing categories in business. We'll help you share your success stories, connect you with peers, offer you valuable rewards, and deepen your understanding of the #1 XM platform.
I'm Interested
1
SIGN UP
Start here and choose how you want to connect with others
2
CONNECT
Earn rewards points for sharing your experience when we connect you with peers
3
BENEFIT
Use points to get X4 passes, advanced training, meetings with XM Scientists, or Enhanced Support.
---
From taking a phone call from a peer to hosting an onsite visit, you can earn points for advanced Qualtrics training, X4 passes, and more. We'll help you build your reputation as an experience leader and highlight your innovations with case studies, reference calls, webinars, videos, or speaking at industry events. Earn rewards each time you do.
What makes a great XM advocate?
– Obsessed with experience management
– You're driving meaningful business results with Qualtrics
– You like connecting with peers focused on XM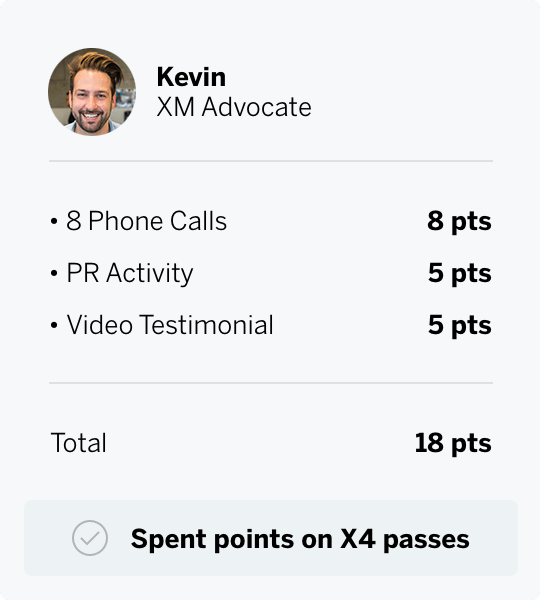 Earn rewards
As an XM Advocate, you earn rewards that give you a front row seat to the experience management revolution.
– Every time you speak with a peer, you earn valuable reward points.
– Use reward points to attend X4, take advanced training, meet with XM Scientists, or get Enhanced Support.
– Share reward points with others in your organization.
Ready to become an XM Advocate?
More XM Advocate Resources